Written by: Jamie Walden, Content Writer for al.com
With pregnancy, there are certainly changes to contend with on the outside, but there are also big changes happening on the inside of your body too. If your OB hasn't discussed matters of the pelvic floor (a network of muscles located in your pelvis that stretch like a hammock and serve as a sort of "basket" to support your growing baby), it's ok. Additional resources exist beyond the stirrups at your doctor's office that can help you not only gain awareness of the importance of your pelvic floor but can also assist you with figuring out how to move in the best and safest ways possible to accommodate for your changing body.
Pelvic floor physical therapists like the ones available at Nesin Pelvic Health Clinic can help, both during pregnancy and after you give birth. After 20+ years of treating pelvic patients and an increase in pelvic health awareness, their team saw a need to branch out and create a space where pelvic health could be an all-out focus. Nesin Pelvic Health seeks to be a resource for pregnancy and beyond.
"We wanted to create a safe, comfortable space for people to better understand what's appropriate and
what's not for the changing body during pregnancy and after. In this space, there's no such thing as TMI! There's nothing you can't talk to us about when it comes to what your body is doing during pregnancy and beyond," says Dr. Lisa English, PT, DPT, WCS, and Clinic Director at Nesin Pelvic Health. "Whether it's back pain, issues with your bladder, positioning your body and your baby best for breastfeeding—whatever conditions you're facing, we want to remove any stigma associated with these matters so you can figure out how to feel your best during pregnancy and once baby is here."
Pelvic floor physical therapy addresses the pelvic area, i.e., from hip bone to hip bone and tailbone to pubic bone. So, it's no surprise this unique type of physical therapy has wide applications for a specific group of patients – women who are pregnant or recently had a baby.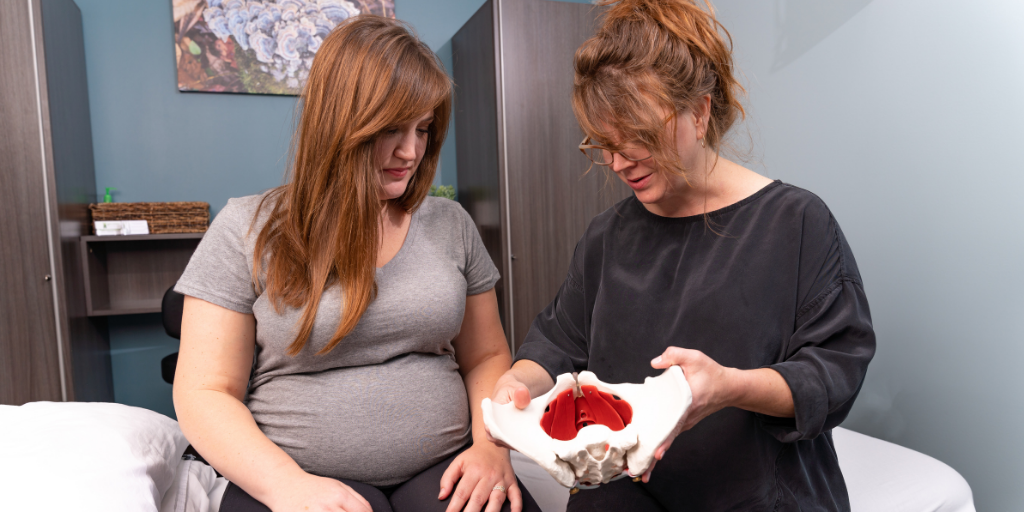 Pelvic floor disorders during pregnancy or delivery most often occur when the pelvic floor muscles and surrounding joints and tissues are injured or weakened. This can result in a number of symptoms, many of which women assume are "just the way it is" after having a baby:
Urinary or fecal incontinence

Pain during sex

Inability to fully empty the bladder

Constipation

Prolapse, or the sensation that the organs are dropping
During pregnancy, hormones loosen the muscles and ligaments in the pelvis to enable the baby to pass through the birth canal. At the same time, a woman's expanding uterus and stomach put more pressure on the pelvic floor. Both increase the chances for pelvic floor problems.
According to Dr. English, a Board-certified Clinical Specialist in Women's Health Physical Therapy, many of the unavoidable issues that occur in pregnancy persist after baby is born. For instance, what many women thought of as "just a pregnancy symptom"—the constant urge to "have to go"—can be a disappointing lingering situation that causes women to have to choose between picking up their crying baby or making it to the restroom. 
Pelvic floor physical therapy can improve quality of life by easing painful, disruptive symptoms. Painful, disruptive symptoms that are actually avoidable with proper, individualized physical therapy.
"Most of our physical therapists are moms, and we're moms at different stages in our motherhood journey. We've been there. Not only do we have a collective knowledge of pelvic floor physical therapy, specialty training, and an understanding of how these muscle groups work, we have such empathy for what pregnancy means for women at every single trimester—including the 4th trimester where your body is trying to recover after giving birth," explains Dr. English.
During pregnancy, there is additional pressure on the pelvic floor and changes in hormones cause the muscles and ligaments to loosen. This can cause issues that require pelvic floor therapy. Common issues like round ligament pain (a pregnancy-related issue that can result in the dreaded "lightning crotch") and sciatica are examples of common pregnancy conditions that can be managed with pelvic floor physical therapy. Dr. English notes that pelvic physical therapy can also assist with prior pains that become worse in pregnancy such as hip or back pains. 
For women who have had a C-section, the scar itself can create issues. For instance, women with C-section scars may not be able to twist and bend as easily as before. This decrease in mobility can contribute to lower back pain. "We do one-on-one hour-long appointments that are designed to address your individualized needs," says Dr. English. "Our goal is to help you take the best care of yourself, so you can provide the best care for your baby."
Other helpful aspects of pelvic physical therapy include birth prep and appropriate exercise for the changing pregnant body. "I think a lot of people are surprised to learn that pelvic PT can help you achieve the kind of birth experience you seek. We have special testing designed to see where your pelvic muscles relax the best so you can discover the best position for you in the birthing process," she says. "There are also breathing exercises and stretches and positioning we can show you that can be helpful during delivery. The pelvic floor, after all, is made up of several muscles, meaning we can manipulate, optimize, and 'train' them to work best for us during childbirth."
Dr. English also hopes that expectant mothers will realize the benefits of pregnancy-friendly exercise and feel empowered to continue on with their fitness regimens through knowledge gained at Nesin Pelvic Health. "There are so many stigmas and so much misinformation out there about exercising while pregnant. The truth is that exercising while pregnant can reduce the risk of gestational diabetes, normalize weight gain, and even help with breast milk supply!" she says. "Yes, your body is changing, and you'll have to accommodate for that in your movement, but it doesn't mean you should stop moving! We can show you healthy ways to stay active during your pregnancy and help you address the pregnancy modifications that will work best for your body."
The benefits of pelvic health for pregnancy and post-partum life cannot be overstated. Having a healthy, correctly functioning pelvic floor can be all the difference between surviving with a new baby and thriving with one.
"It may feel like it's an extra thing to do in the moment, but I want to encourage moms-to-be and new moms to be proactive in their pelvic health physical therapy. You'll be so happy once you realize that all those issues like going to the bathroom constantly or that achy back are ones that can be fixed with PT. You are worth taking the best possible care of yourself, and we want to empower you to do so!"
The newly opened Nesin Pelvic Health Clinic is located at 303 Williams Avenue, Suite 128 in Park Plaza at Big Spring Park in Downtown Huntsville, Alabama. Nesin Therapy Services has been treating patients with pelvic health conditions for over 20 years – since 1999 to be exact. As their reputation in pelvic health physical therapy has grown, so has the need within the Huntsville community. Nesin is proud to provide physical therapy just for pelvic health patients, offering services in prepartum and postpartum, women's health, and men's health.
For those moms who are looking to improve their pelvic health but are worried about what to do with baby during their hour of physical therapy, Nesin Pelvic Health is proud to be baby-friendly for all new moms who enter their gorgeous new facility. Bring baby along so he or she can see you taking care of yourself so you can better care for them! For questions or more information about any of Nesin Pelvic Health's services, please click here or call 256-513-8442.
To read the article via al.com click here