Written by:  Jordan Martin, Assistant Director of Marketing & PR
Reviewed by: Jonathon Cooper, PTA & Amanda Spalding, PT, DPT, OCS, COMT, CF-L1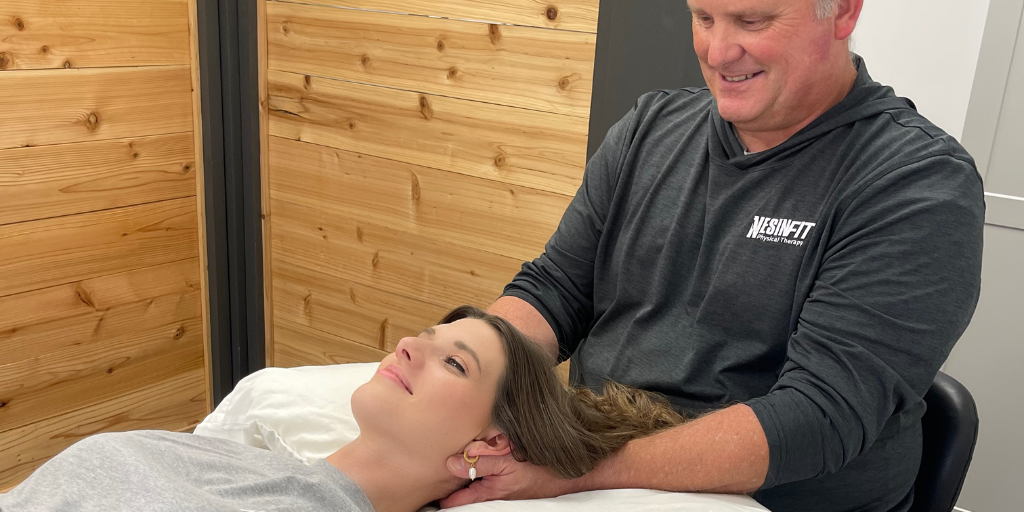 Yes, I know what you're thinking – "Physical therapy can help with migraines/headaches?" Believe me, I had no idea my migraines/headaches could be treated with physical therapy either before starting at Nesin and to be honest I was even a little *gasp* skeptical. All of my skepticism was cleared up after requesting a referral from my doctor and completing my plan of care back in 2019 with the hopes of decreasing the frequency of my migraines/headaches. My beloved PT co-workers were miracle workers back then and still are as I've started PT again after dealing with an influx of migraines and headaches!
Now you may be wondering what a treatment session might look like? This ultimately might depend on the type of headaches or migraines you have, what your therapist finds at your evaluation, and the goals you're seeking to reach with the help of physical therapy. But I can almost guarantee that it will involve manual therapy, exercises and education on posture and sleep positioning. 
I don't want to sugarcoat my experience… The muscles they are working on are tight and tense so their manual work will feel like deep, deep pressure. During my initial evaluation, the therapist demonstrated the pressure she was using on my neck/skull on my arm… There was a HUGE difference in intensity. And yes at one point I thought she was reenacting the scene from the movie Breaking Dawn where that vampire's head was being ripped off. She assured me that wasn't the case. The point of this is to say that the very manageable "pain" increased my mobility and helped loosen my tightness.
Now let's talk about the exercise component of my treatment… Have you heard of a chin tuck? It might be the most infinitesimal movement, but the benefits are quite the opposite. (We won't even talk about how it's quite possibly the most unflattering exercise…) PEOPLE DO YOUR EXERCISES. As I shout this reminder to you, I'm reminded that I need to do mine today as well. Now because I'm being treated at NesinFIT, the exercise component also looked a little different. I was shocked when they asked me to head to their gym space to finish up the session, and I was even more shocked when I started using weights and the bench. They put me to work in order to help improve my stability and strength in my neck and shoulders to help with my posture and assist with tolerating everyday activities. 
I'll stop rambling about my amazing experience and say… If you suffer from headaches and migraines, you understand that you get to a point where you're willing to try anything for relief. And as someone who does have them, I want to recommend and encourage you to try physical therapy as a treatment for yours. Don't just keep pausing your life to let a migraine pass or taking all sorts of pain relievers that sometimes don't even provide relief – you deserve to live life better. 
Tune into "Marketing Chicks in a PT World" available on Apple Podcasts, Spotify and iHeartRadio to learn more about migraines and how PT can help on our episode – Kick Your Migraines!
Apple Podcasts: 
https://open.spotify.com/episode/4bwPnUDV6QmTkCkR8FZQJ5?si=Nfr4Z9DARDyaHl2uiCbjDA

Spotify: https://open.spotify.com/episode/4bwPnUDV6QmTkCkR8FZQJ5?si=Nfr4Z9DARDyaHl2uiCbjDA